Recruiting is as vital as any part of a business these days.
To remain competitive and stay ahead, you have to attract the best talent available whether they're local or working in a completely different timezone.
This also means that hiring managers are tasked with a more complex recruiting process than ever before, which places the absolute demand on them to leverage tools.
Because of these increased recruiting demands, recruiters and hiring managers are resorting to Applicant Tracking Systems (ATS) in an effort to save time, streamline the hiring process, and improve candidate quality.

Additionally, ATS software for hiring managers helps them efficiently build a strong employer brand in a fully compliant manner.
"94% of recruiters say their ATS has positively impacted their hiring process." — Capterra
Click To Tweet
Fortunately, we've rounded up the best applicant tracking software to make candidate tracking more manageable and, day we say, fun.
Hey! Our criteria is based on reviews, value, features, versatility, and in essence, how much easier these applicant tracking system softwares will make the lives of recruiters and hiring managers.
In this article, we will be breaking down the 10 best applicant tracking systems available in 2023.
Expect to learn about the key features, benefits, pricing, and what makes each of these recruitment management softwares exceptional.
Whether you run a small business or are a part of a corporation, this ATS applicant tracking system guide will give you the confidence you need to feel prepared to implement the right job tracking software for your organization.
Want to become a better professional in just 5 minutes?
What is an applicant tracking system?
An applicant tracking system (ATS) is a software application utilized by organizations to streamline their recruitment and hiring process.
This tool collects, organizes, and filters job applications, resumes, and vital candidate information for seamless analysis and convenient retrieval of important data.
ATS systems are a great asset for recruiters and hiring managers alike, as they offer the ability to create job postings, review applications, monitor candidate progress during recruitment cycles, arrange interviews, and communicate with potential hires.
Not only that but these systems also have cutting-edge features such as resume analysis technology and an algorithm that can accurately rank applicants based on pre-set criteria.
An ATS can help to swiftly move the recruitment process forward, minimize tedious manual labor and create a centralized hub for all relevant activities. Large corporations with numerous hiring requirements, along with staffing companies and employment agencies widely utilize this technology.
What features are most important in an applicant tracking software?
The main features that the best ATS systems have in common can vary depending on the precise needs of organizations, making it relatively subjective; however, many of these candidate management systems do share similar characteristics. ATS platforms should include the following features:
✅ Job posting – Applicant management is aided immensely by job tracking softwares that lets you create and post job openings on different job boards, websites, and social media platforms.
✅ Automated screening – Online applicant tracking systems can give you the ability to screen resumes and applications automatically based on predefined criteria, such as education, experience, and other qualifications.
✅ Resume parsing – Candidate applicant tracking systems can help you go through resumes more effectively and extract critical information, such as work experience, skills, education, and candidate names.
✅ Candidate tracking – A centralized database, as you will find in the best recruitment management softwares, serves as a hub to store information such as interview feedback, application status, communication history, and other vital data that keeps recruiters in the know.
✅ Customization – Recruitment applicant tracking systems enable custom commands to suit the exact needs of organizations, whether you have certain branding desires or a type of workflow to achieve the right outcomes and objectives.
List of ATS & Applicant Tracking Systems
Best ATS system for: Continually improving the talent recruitment process
Greenhouse is a candidate management system used by people-first companies, such as SquareSpace, HubSpot, and J.D. Power to bring structure to the hiring process.
This applicant management software is an intuitive way to automate recruiting. Engage talent effortlessly using the HR tools available through Greenhouse to transform top prospects into current employees.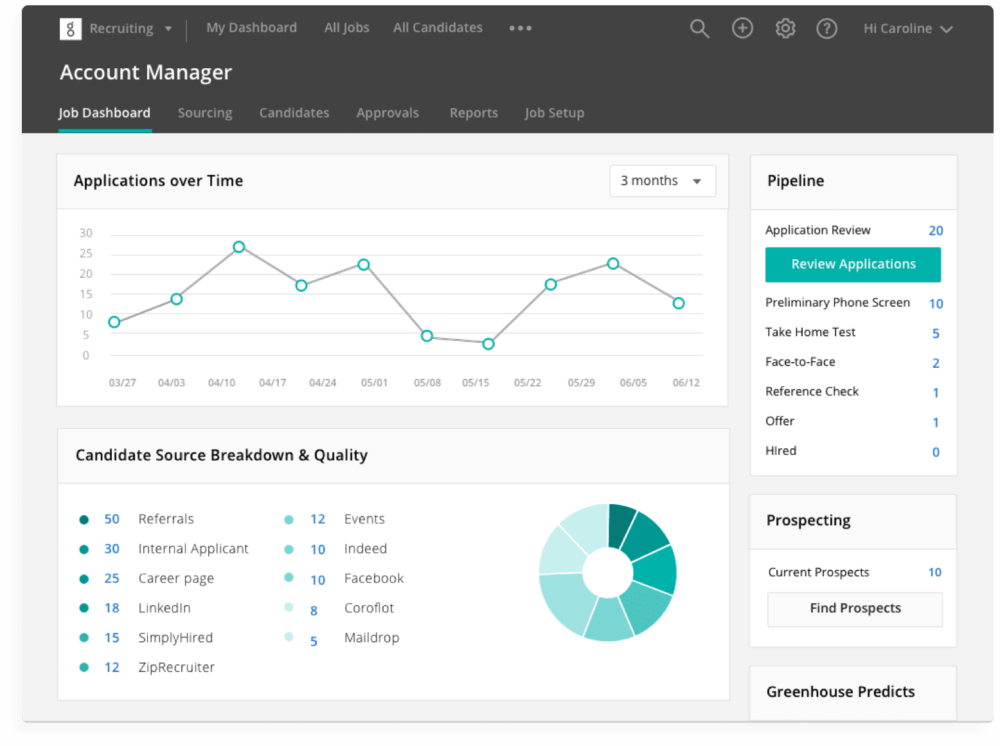 🏅 Why we love this applicant management software: Greenhouse helps you to continually assess and improve your hiring process and take the necessary steps to improve it. In fact, this ATS software even has its own tried and tested proprietary assessment to give you a gauge on your recruiting efforts.
Standout Features
Candidate sourcing metrics – Offers metrics to assist with sourcing and identifying qualified candidates.
Hiring process tracking  – Keeps track of the hiring process and helps ensure that everything is on track
Automated resume parsing – Helps make sorting through resumes faster and more efficient
"Greenhouse allows our company to create an exceptional onboarding experience for not only our new hires, but our hiring teams and central supporting teams as well. Being able to create onboarding plans for specific criteria helps us personalize a new hire's onboarding journey. The tasks, emails, and portal features have been game changers." — Eric C.
Pricing: Book a demo to get custom pricing for your team
Amp up your talent recruitment process with Greenhouse!
Best ATS system for: Actively and successfully acquiring the talent you want for your team
Pinpoint is the seamless platform designed to attract, hire, and onboard top talent. With Pinpoint you can, well, pinpoint the perfect candidates, select them, and impress your new hires from the moment they join your team.
Instead of getting the leftovers, Pinpoint gives you first choice so you can pick out the best talent available. Rise above the competition with engaging job ads, integrated job boards and career sites, and built-in recruitment tools.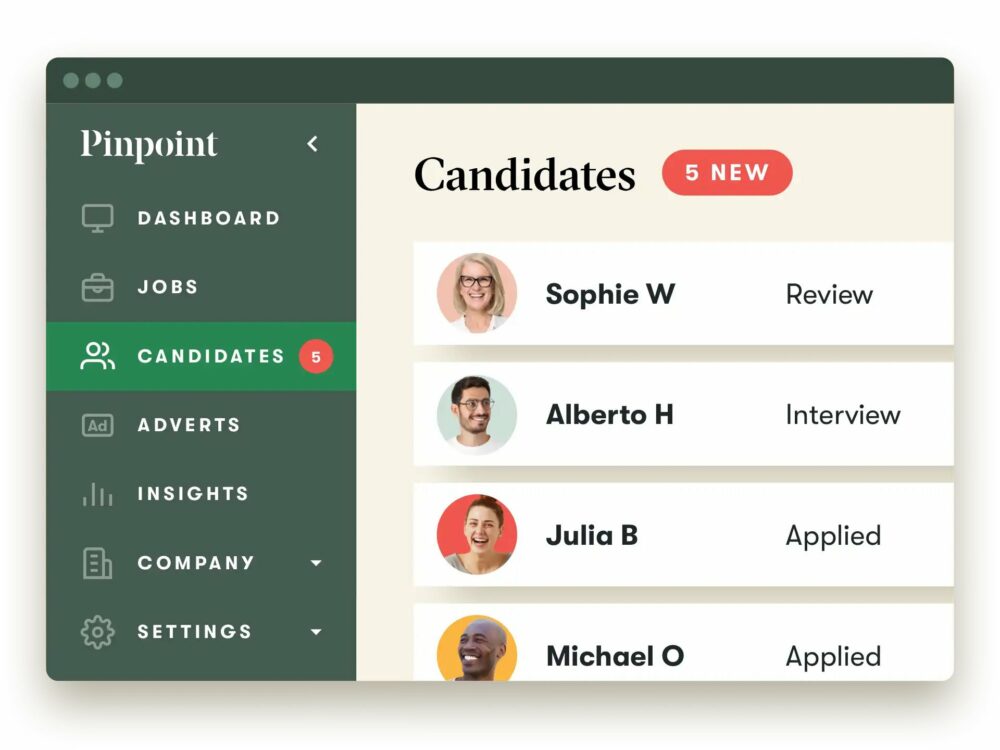 🏅 Why we love this applicant management software: Pinpoint makes the hiring process frictionless. This HR talent management software serves as the team you didn't even know you needed by backing you up with a vast knowledge of the recruitment process. Whether your company needs help improving job descriptions or assistance with recruitment advertising, Pinpoint has you covered.
Standout Features
Job board marketplace – Post your job listings on hundreds of job sites instantaneously.
Interview scheduling – Reduce the back and forth emails with convenient interview scheduling.
Video interviewing – With limitless integrations, you can schedule video interviews on your favorite video conferencing platforms so that distance is irrelevant and your talent pool is truly global.
"The support and guidance that Pinpoint has provided us has been first class." — Laura Belo, Head of Talent Acquisition at JT Group
Pricing: Starting at $600/month
Acquire the talent you want with Pinpoint and optimize your organization!
Best ATS system for: Unlimited job postings and users for unhindered, fully effective hiring
JazzHR is a recruiting software designed to effortlessly streamline the entire process from beginning to end. This applicant management system helps with candidate sourcing, interviews and assessments, employer branding, collaborative hiring, and compliance and reporting.
One of the best perks about JazzHR is the fact that JazzHR offers unlimited users and job postings without tacked-on fees.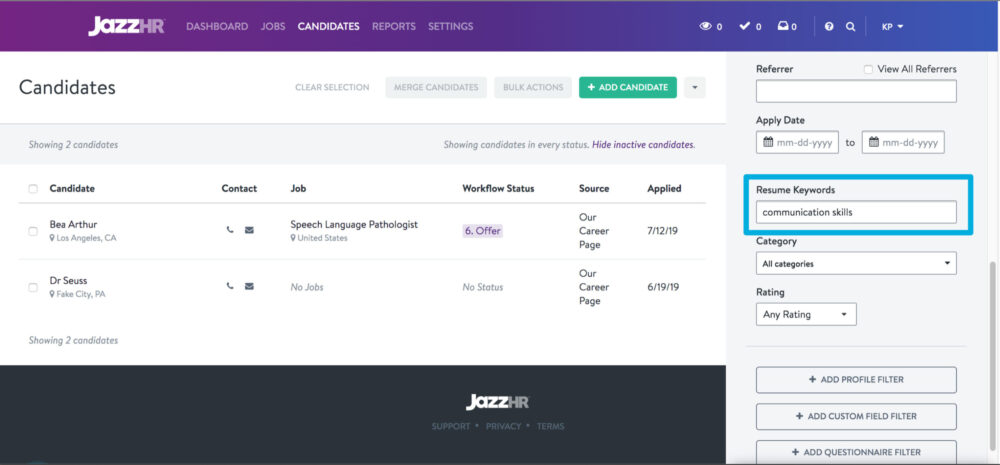 🏅 Why we love this applicant management software: JazzHR reduces recruiting friction so you can focus on the human element of talent acquisition. With a customizable approach, you can hire around your specific needs and JazzHR integrates your other favorite HR software for an even more tailor-made solution.
Standout Features
Calendar management – Offers a centralized calendar system that allows you to quickly and easily manage job postings, interviews, assessments, and more.
Internal chat integration – Allows your team to collaborate in real-time while sourcing candidates, conducting interviews, and completing assessments.
Background screening – Offers a comprehensive background check feature that helps you verify candidate information
"User-friendly, easy to configure, and you don't have to be a web developer or expert to integrate and use. You can post to social media, keep all your current posts, and more. I have used JazzHR at several organizations and it's my go-to ATS when working with a new group. Functionality is always growing and they are constantly adding new features. They listen to their user community. Love this ATS!" — Samantha Day, Human Resources Manager
Pricing: Starting at $49/month
Try JazzHR to make hiring efficient and effective!
Best ATS system for: Automating the hiring and recruitment process without losing the personal touch or one-on-one communication
BambooHR is an ATS recruiter that delivers on your needs for applicant funnel reporting, applicant notifications, and an intuitive ATS mobile app.
With collaborative hiring teams, Bamboo HR amplifies the best parts of your candidate hiring experience and gives you powerful and effective communication tools, even helping you to outsource your HR.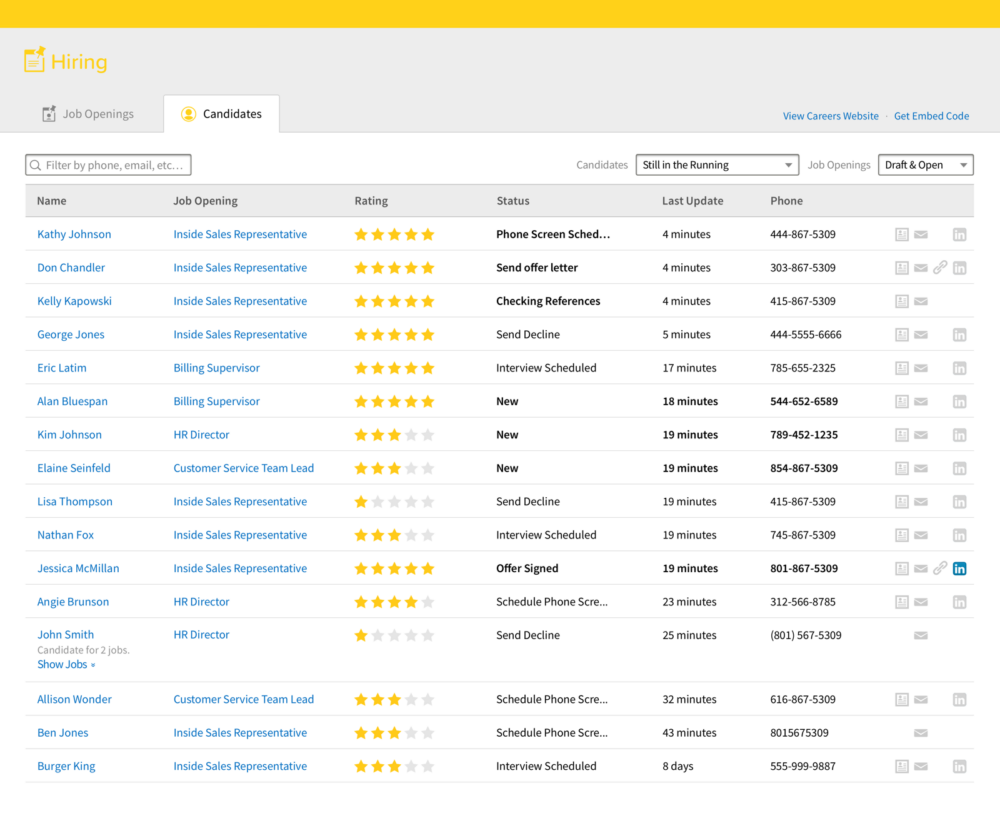 BambooHR enables you to create custom application questions, call and email candidates directly from ATS, and communicate with email templates.
🏅 Why we love this applicant management software: BambooHR lets you instantly apply, coordinate with hiring team members, and communicate directly with candidates to keep the process going right from the control of this ATS software.
Standout Features
Benefits management – Allows you to manage employee benefits programs, including vacation time and medical insurance plans
Employee onboarding – Provides a seamless, automated experience that optimizes the start of new employees
Recruitment management –  Automates the recruitment process by providing a platform to sort and store resumes, job postings, applicant tracking, and other recruiting tasks
"The functionality, features, and user-friendly capabilities of the BambooHR website and app have provided me with the ability to empower our managers and employees to take on tasks I was responsible for in the past. The added levels of accountability are fantastic." — Natalie Snow, Controller and HR Manager at Cascade Collision Repair
Pricing: Request a demo
Ready your recruitment strategy with BambooHR!
Best ATS system for: Analytics-driven applicant tracking and data-driven recruiting and onboarding
Trakstar is an all-in-one recruiting platform and ATS recruitment software that provides an integration solution designed to help small to large organizations supercharge their hiring process.
Trakstar improves the candidate experience, candidate assessments, candidate attraction, goal setting, stakeholder engagement, and overall hiring efficiency.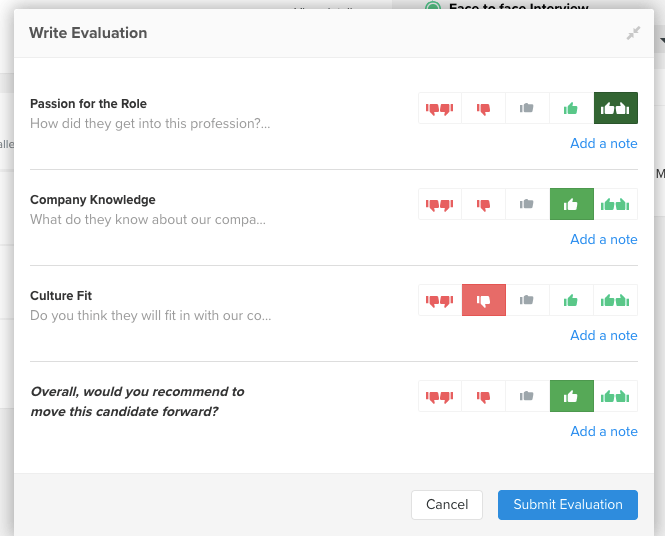 🏅 Why we love this applicant management software: Trakstar empowers hiring teams through customizable analytics-driven applicant tracking software. Scheduling and sourcing are set up and ready to go in a few clicks, so recruiting workflows are all but automated. This applicant tracking tool ensures that recruiters and candidates end up with a win and the perfect job match.
Standout Features
Candidate sourcing metrics – Provides powerful, analytics-driven candidate sourcing metrics to determine the best sources of talent and maximize ROI on recruitment efforts
Social sourcing – Gives a full-featured onboarding system to ensure employees get up and running quickly
Monthly insights – Benchmarking allows hiring managers the chance to understand where they stand in recruiting, job openings, applicants and hires
"We look for intuitive software programs with little to no downtime and quick customer support when we need it. Trakstar delivers on all three." — Denise C. Milde, Vice President, Human Resources
Pricing: Get a Trakstar quote for accurate pricing
Streamline your hiring process with Trakstar!
Best ATS system for: Building out your talent pipeline while still freeing hiring managers and recruiters up to tackle other tasks
Rippling is an ATS applicant tracking system that gives you the means to find, develop, and engage the most desirable talent for your business.
In addition to frictionless tracking, recruiters and HR professionals can publish opportunities to job boards and other sites simultaneously to rapidly build out their talent pipelines.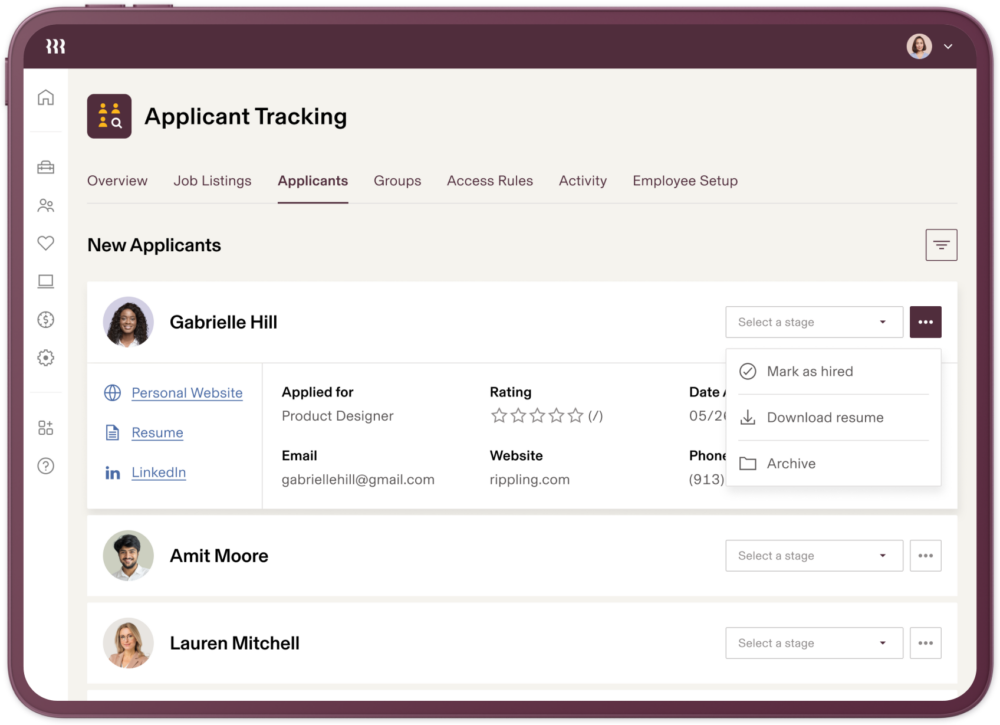 To top it off, Rippling helps you automate calendaring and scheduling, access hundreds of pre-made courses, customize reports, and stay up-to-date with compliance training.
🏅 Why we love this applicant management software: Rippling communicates company information, centralizes resources, and keeps organizations in-the-know about new hires, work anniversaries, birthdays, and more. This applicant tracking program gets your workforce competitive, supports career growth, and increases employee retention with top-notch tools and courses — both pre-built and ones you can upload yourself. Now, you can enjoy consistent training organization-wide instead of dealing with siloed information and disconnects between departments.
Standout Features
Custom workflows – Offers an intuitive workflow design tool that allows users to create custom workflows so they can assign tasks and track processes more efficiently
Workforce analytics – Provides users with analytics about their workforce, such as hiring trends and performance metrics
Talent management – Allows users to track potential applicants, manage onboarding processes, and keep tabs on employee performance
"I like how simple Rippling is. The layout is easy to navigate through. It took me no time at all to figure out where everything was located. Registering for health insurance and making elections took me less than 10 minutes, and the options were all very easy to understand — especially for someone like me, who is not computer-savvy. It's nice having access to everything on one dashboard." — Lauren Mullin, National Account Manager
Pricing: Request a quote
Expand your talent pool to a talent ocean with Rippling!
Best ATS system for: Streamlining your hiring and talent management process
Lever is a recruiting platform designed to combine the power of a CRM and an ATS to deliver quality candidates right to your company doorstep. This talent relationship management solution streamlines and scales candidate sourcing, nurturing, and interviewing.
Lever's visual insights build confidence in your hiring process through data-driven recruiting, letting companies and managers recruit, hire, and onboard new employees more efficiently.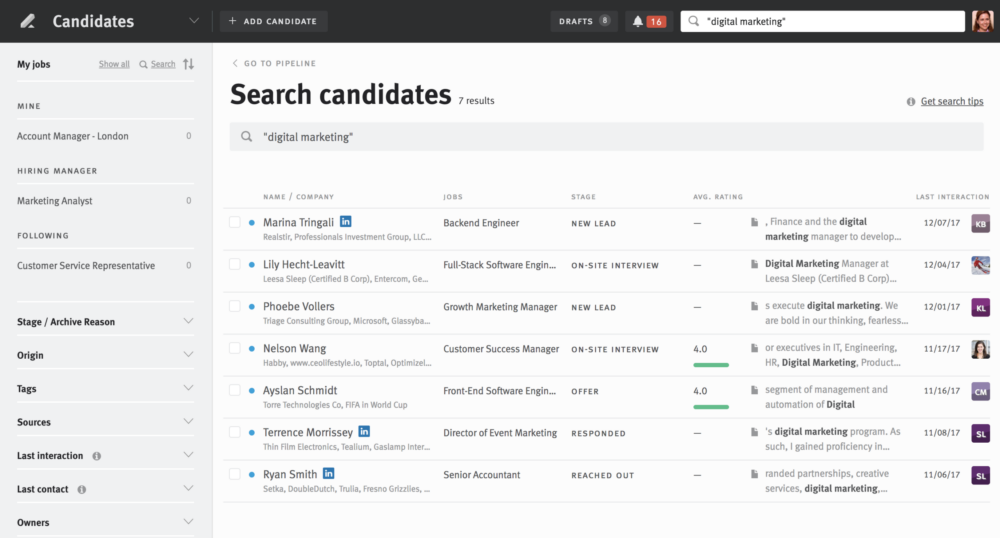 🏅 Why we love this applicant management software: Lever provides reports so companies can track diversity, empathy, and inclusion in the workplace. Even more importantly, this enables organizations to figure out how to improve their DEI efforts and build a positive company culture. On top of that, Lever offers hundreds of integrations with your favorite applications.
Standout Features
Candidate profiles – Display all the important information hiring managers need to know in an easy-to-read format, from resumes and cover letters to skills
Job applicant management – Helps companies with applicant tracking and management, including sourcing, screening, interviewing, job postings, and onboarding.
Social media integration – Lever integrates with Twitter and LinkedIn to help companies find the right talent
"With Lever, we're able to funnel several hundred candidates through the pipeline every week. It's been a volume game-changer for us. We hired a number of mid- to senior-level engineers. We basically grew our engineering team by 50% in 6 months. I don't think we could have done it at the pace we did without Lever."
Pricing: Request a quote for personalized pricing
Intensify your recruiting efforts with Lever!
Best ATS system for: More efficient, scalable recruitment and hiring
Teamtailor is a recruitment and employer branding ATS. This ATS recruitment software doubles as an incredible career site for expanding your talent pool and managing every part of the hiring process all from one convenient platform.
Teamtailor helps with quicker onboarding, live support, and security and regulations to assist you in staying compliant, which is why the platform is visited by more than 7 million candidates each month.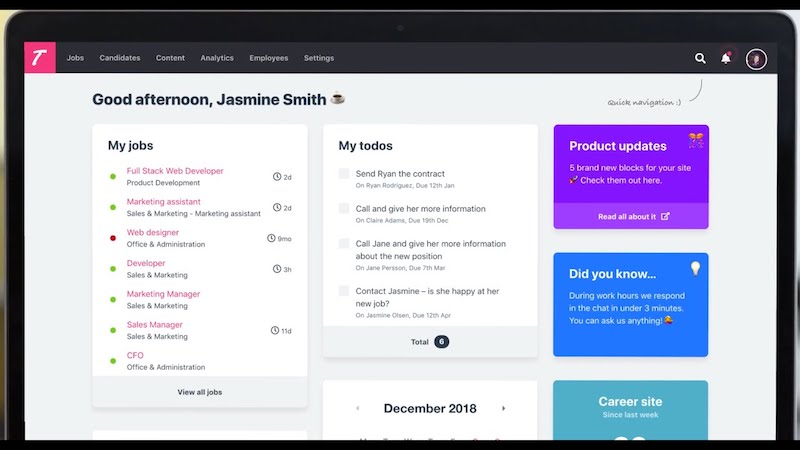 🏅 Why we love this applicant management software: Teamtailor helps candidates add a personal touch even as recruiting efforts go global with the assistance of this all-in-one applicant tracking system.
Standout Features
Job posting – Enables you to easily post job listings, with support for over 20 languages and custom branding options
Hiring process tracking – Streamlines the entire hiring process with a built-in tracking system, from candidate sourcing to onboarding.
Candidate sourcing metrics – Track your recruitment efforts with real-time analytics on the performance of each job posting
"Our shiny new careers site launched just over 2 weeks ago, and since then our views have increased by 1,400 percent." — Jodie Haywood, Talent Partner at Arctic Shores
Pricing: Request a quote
Find out why Teamtailor is growing into one of the most popular ATS trackers around!
Best ATS system for: Creating a custom recruitment solution that is optimized for active hiring
Recruitee is a talent management software known best for automating manual tasks and tedious responsibilities that come with the recruitment process. In fact, it's estimated that Recruitee can save as much as 64% of recruiters' time through automated actions and templates.
Recruitee's career site editor is a no-code platform, which also means you can set up your job listings and create your own job board without any extra hassle or confusion.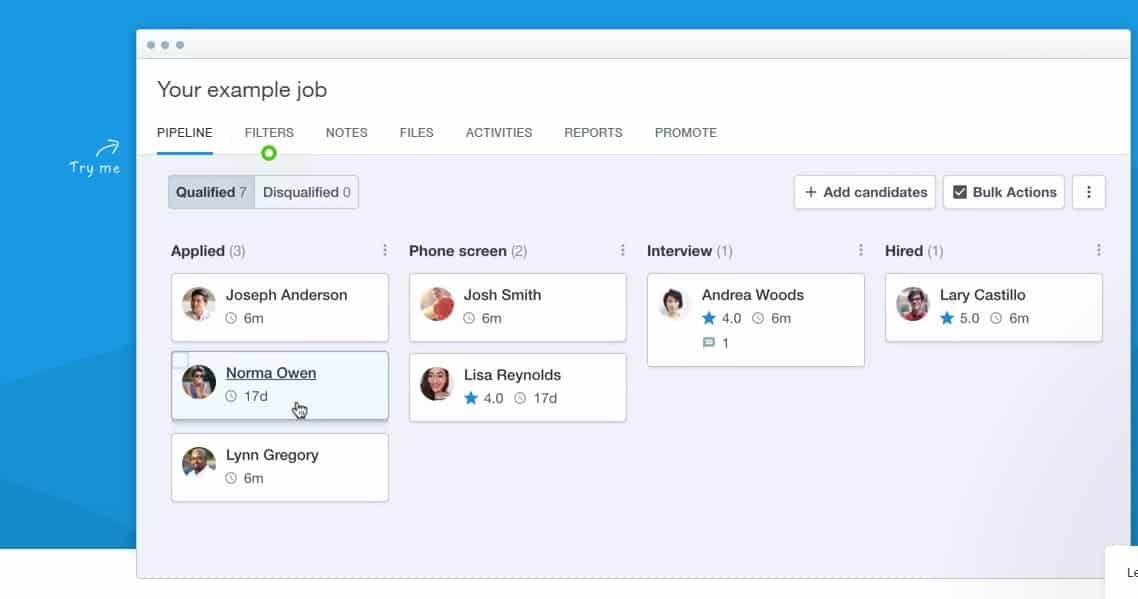 Additionally, this applicant tracking system software enables recruiters to share social links, referrals, and sourcing tools, as well as to post on multiple job boards simultaneously.
🏅 Why we love this applicant management software: Recruitee helps you not only find the candidates, but to schedule interviews, keep notes, and handle every other part of the recruitment and onboarding process. You can even build custom dashboards and reports to see how your recruiting efforts can be improved and optimized. And if that wasn't enough, Recruitee offers more than 120 integrations with your other favorite applications.
Standout Features
Customizable pipelines – Build custom pipelines with tailor-made filters, stages, and views to get a clear idea of the state of your hire.
Workflow templates – Set up templates for emails, pipelines, and more for easier job listings.
Roles and visibility – Assign roles and visibilities to members within the organization so the hiring process and the responsibilities that come with it can be shared as a group, while still keeping data and info in front of who it is meant to be in front of.
"Before Recruitee, we had a lot of extra manual tasks that were taking valuable time from the recruiters. With a lack of visibility of money spent on recruitment with our previous system, changing ATS' was a cost-reducing and time-saving decision. Choosing Recruitee was a no-brainer." — Ireen Dekker, Corporate Recruiter at CM.com
Pricing: Starting at $224 per month
Create your custom job postings through Recruitee to accelerate your hiring!
Best ATS system for: Asynchronous video interviewing and remote recruiting
VidCruiter is a virtual interviewing and recruiting platform designed to empower recruiters and candidates alike.
With features like pre-recorded interviews, VidCruiter has earned a reputation as one of the most convenient videoconferencing tools for recruiters.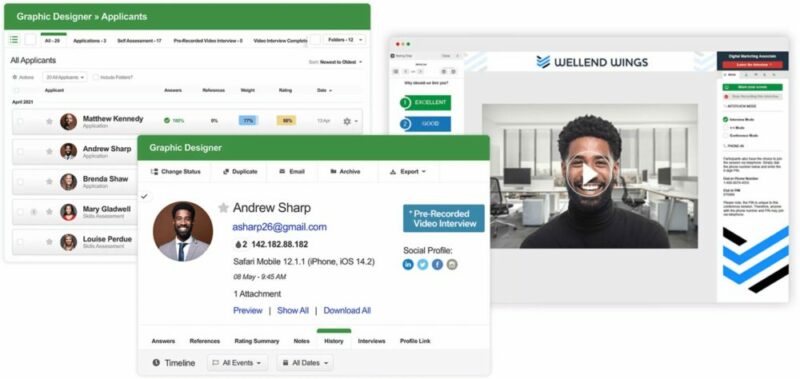 This applicant system lets you eliminate scheduling and time zone conflicts, minimize hiring bias with a structured process (increasing the predictive validity of your hires by 65%), and review videos on your own schedule, which reduces your time-to-hire by as much as an estimated 75 percent.
🏅 Why we love this applicant management software: An end-to-end hiring platform, VidCruiter enables you to manage the entire recruitment lifecycle, with a feature set that is more than able to handle each stage. From filtering, screening, pre-screening, scheduling, interviewing, and gathering references, VidCruiter has it all.
Standout Features
Interview scheduling – Lets you manage all your recruitment needs in one place, eliminating time zone conflicts and reducing the time-to-hire
Scheduled interviews –  Automatically schedules interviews and send reminders to both the recruiter and the candidate
"VidCruiter's people are simply the best. The client support and success orientation of the team is incredible. VidCruiter is not only very user-friendly, the team is so focused on finding solutions and making things happen. The platform is intuitive and the level of customization meets all the needs you have — and beyond." — George Paul, Human Resources Specialist
Pricing: Request a quote
Try out VidCruiter to satisfy your remote recruiting needs today!
---
People Also Ask These Questions About Applicant Tracking Systems
Q: What is an ATS?
A: An ATS is an applicant tracking system. It is a software application used by employers to manage their recruitment, including sourcing, screening, and tracking prospects and candidates.
Q: What are the benefits of using an ATS recruitment system?
A: The benefits of using an ATS recruitment system are that they allow hiring managers and recruiters to post job openings on various job boards and social media platforms, screen applications based on qualifications, skills, and keywords, and receive resumes and applications from interested candidates. Additionally, an ATS recruitment system can store candidate information and track the progression through the hiring process, reducing time and costs.
Q: Why should hiring managers utilize applicant tracking?
A: Hiring managers should utilize applicant tracking systems for consistent screening criteria, improved candidate experiences, a streamlined recruitment process, enhanced diversity and inclusion, and compliance with hiring regulations.
Q: When should recruiters set up an applicant management software?
A: Recruiters should set up an applicant management software (AMS) when they are receiving unusually high numbers of job applications, they want to boost recruitment metrics, they want to reduce recruitment bias, they want to ensure regulatory hiring compliance, and they want to improve the overall candidate experience.
Q: How does job applicant tracking improve hiring?
A: Job applicant tracking can improve hiring in many ways, including but not limited to faster screening and selection, improved candidate experience, reduced bias, improved data analysis, and better candidate quality.
Q: How long does it take to set up an applicant tracking software?
A: The time it takes to set up an applicant tracking software (ATS) can vary depending on the particular software and the complexity of the specific organization's recruitment process. Typically, however, applicant tracking software takes anywhere from a few days to a couple weeks to get fully running and operational.
Q: What are the most common ATS integrations?
A: An applicant tracking system usually integrates with job boards, HR information systems (HRIS), background check providers, video interviewing tools, social media platforms, and email platforms.
Q: How do I measure the success of my recruitment management software?
A: To measure the success of your recruitment management software, you should track time-to-hire, candidate quality, cost-per-hire, candidate experience, and source effectiveness.
Q: What features do candidate tracking systems commonly have?
A: Candidate tracking systems typically have resume parsing and management, job posting and management, interview scheduling and management, reporting and analytics, compliance and regulatory support, customization, and more.